Applications
Select the best product for
your application.
MFP
(Multi-Function Printer)
Scanners for multi-function printers and document scanners
CIS (Contact Image Sensor) is the major scanning solution for home-use multi-function printers and document scanners, which require compact size and high-resolution scanning.

CIS is a simple scanning unit that consists of rod lens array (SLA), linear light source (SELGUIDE) and line sensor.
Its optical system is extremely simple and compact compared with the reduction opticals and camera methods that use ordinary lenses, and it is also easy to assemble.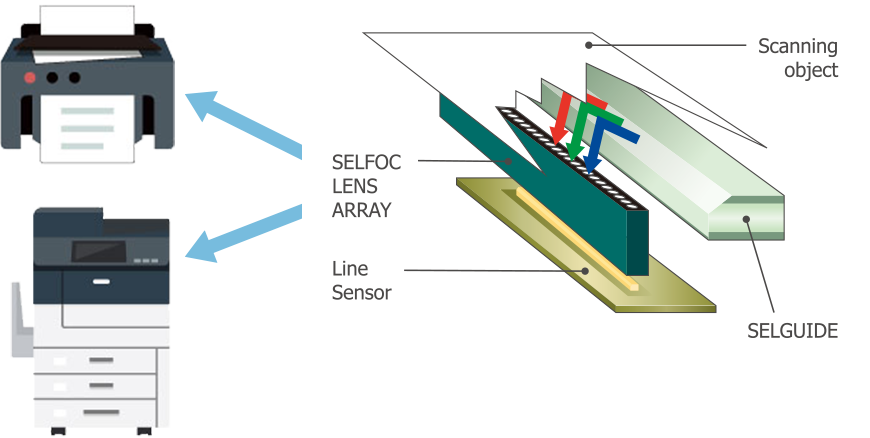 CIS in a Multi-Function Printer (MFP)
Print heads used in
LED printers
LPH (LED Print Head) is a print head used in LED printers.
LPH consists of an LED array and SLA, enabling high-speed and high-quality printing, by irradiating the photoconductor drum with the light emitted from each LED element via SLA.

There are laser printers that use a laser light source and a rotating polygon mirror for a similar process, but since the LED printer does not require a large and complicated optical system or driving part like a laser printer, it can be significantly reduced in size and weight and easier to maintain.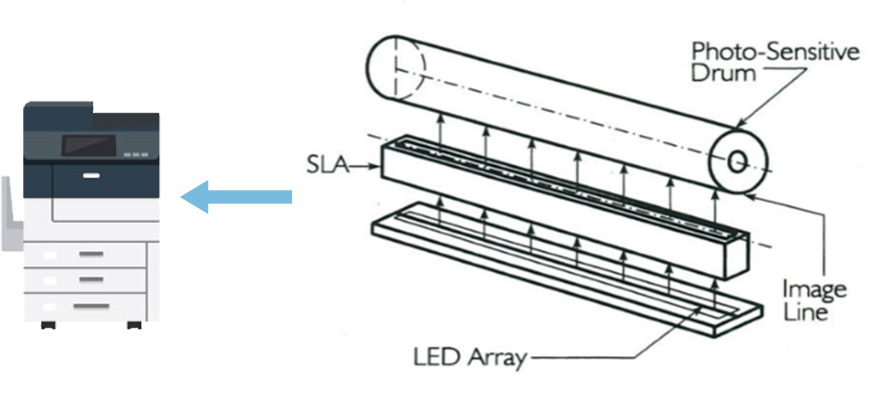 LPH in LED printer
Automated Optical
Inspection
AOI
(Automated Optical Inspection)
Industrial inspection machine
(CIS for machine vision)
CIS (Contact Image Sensor), the major solution for MFPs, is now widely used in industrial inspection machines.

For example, CIS can inspect (perform various inspections) such as: overall appearance, existence of foreign materials, spotting defects, measuring length, depth and position, etc. of film, sheet, foil, etc. on a conveyer belt and in roll-to-roll processing.

Compared with the conventional camera method (WD *: several hundred mm to 1m or more), the optical system of CIS is exceptionally compact (WD: about 15 mm), and installation and maintenance are extremely easy.

CIS using SLA allows additional inspections to processes that are limited by space and does not require special skills for installation and maintenance unlike the conventional camera.

In response to the rapid expansion of demand for SLA for industrial inspection machines, NSG Group has newly developed a long depth of focus lens for machine vision "SLA-5DG".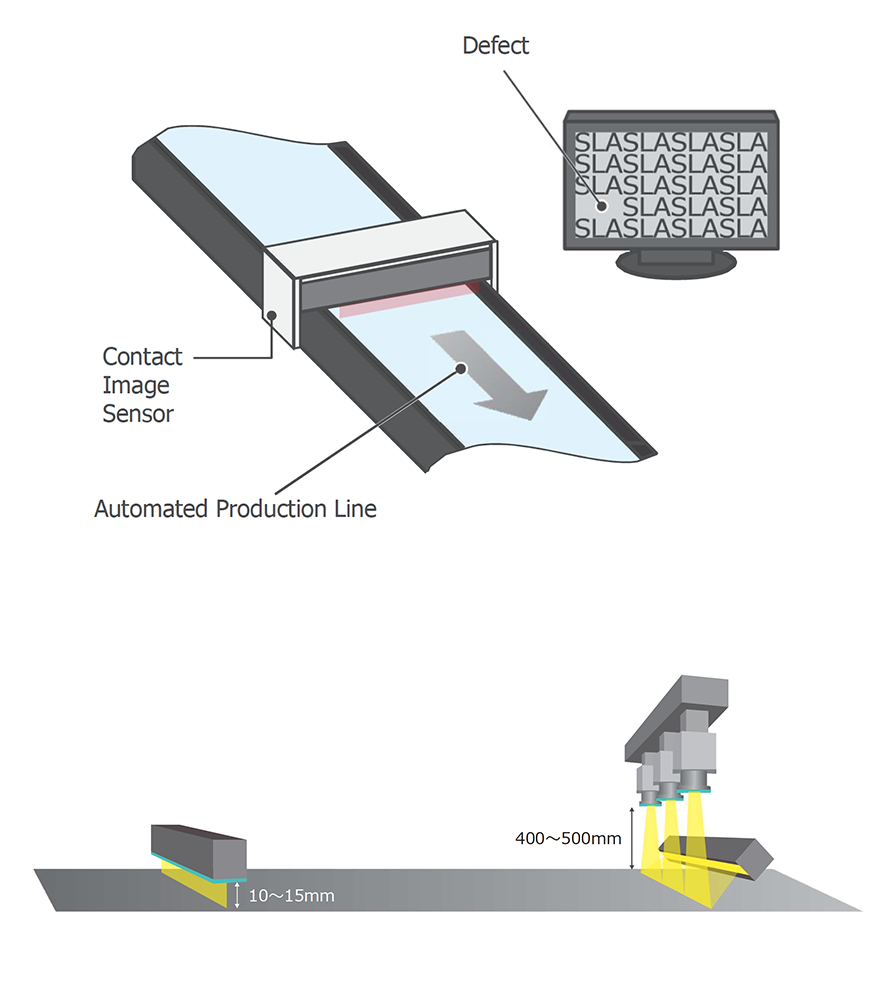 *WD: Working Distance, the distance from the tip of the lens to the object when the object is in focus.
Various telecommunications devices
SML is used as a lens for optical components for various telecommunications devices.
・Collimating lens
・Coupling lens
・Condensing lens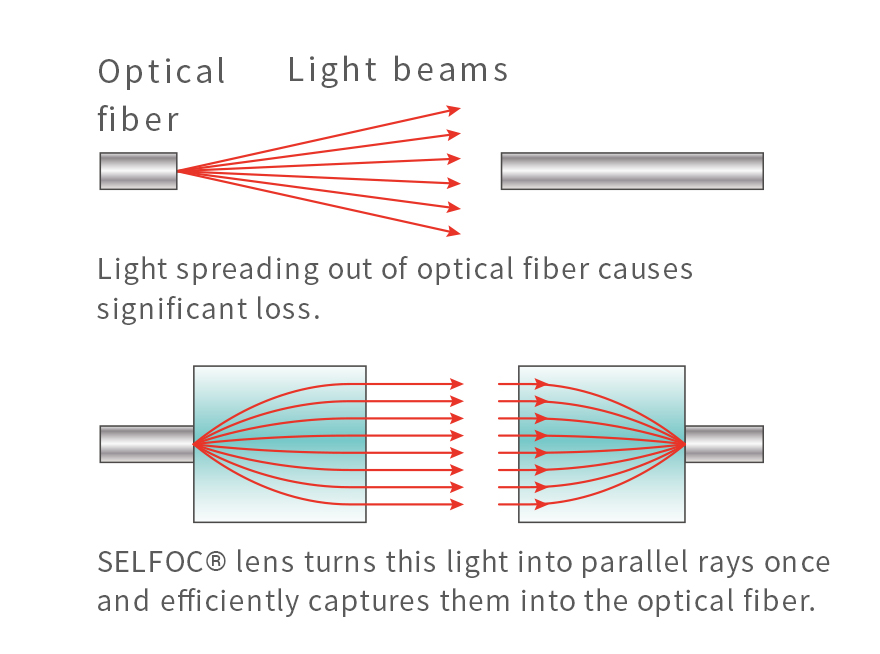 Lens for fluorescence detection
Fiber type fluorescence detector
It can be used for various fluorescence detection devices such as Real-Time PCR and microplate readers. It is ideal for miniaturizing the device because the fluorescence detection part can be miniaturized. Furthermore high-sensitivity measurement is easily possible even in bright places.
Miniature fluorescence microscope
Calcium imaging
Many nerve cells (neurons) are active in the brain at the same time, and by measuring the activity, it is possible to obtain clues as to how the brain processes information.

Nerve cells (neurons) work to process and transmit information; the terminal part of the nerve cell that sends information and the receiving part of the nerve cell that receives information are called synapses. Calcium (Ca2 +) is required to transmit information between these synapses.

However, in genetically modified mice expressing fluorescent protein, when synaptic transmission occurs, calcium (Ca2 +) is generated and fluorescence is emitted in the brain of the genetically modified mouse. By observing this directly, one can begin to determine how the brain processes information.

Our product, IL (SELFOC® Imaging Lens), is used as a relay lens for miniature fluorescence microscopes for research on abnormal cerebral function. The microscope is of a fingertip size, just over 2g, and can be fixed to the head of the mouse to observe the fluorescence reaction in the brain (brain surface, deep brain) under behavioral experiments.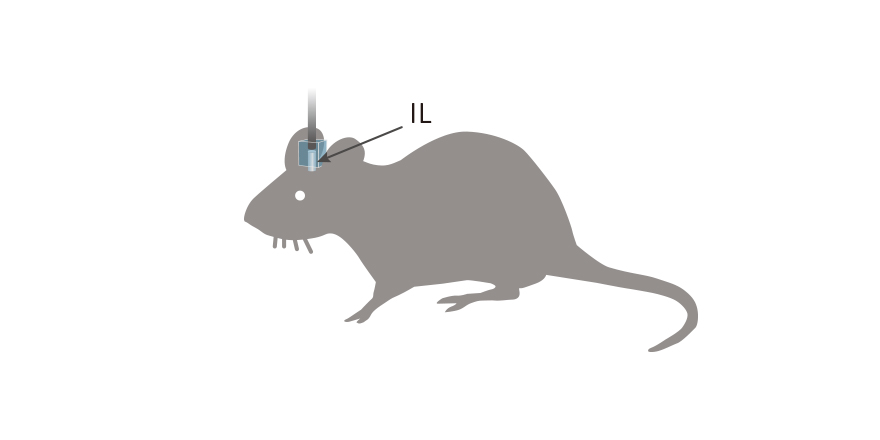 Probe for OCT
OCT (Optical Coherence Tomography)
OCT applies near-infrared laser light and fiber optic technology. This is a method of constructing an image by analyzing the light information when the light emitted to the target and the light that the mirror reflects interfere with each other.
The OCT probe has a lower measurement depth than ultrasound, MRI, PET, etc., but it has a high resolution (making it possible to obtain a sharp image), and it is possible to perform non-contact and non-invasive imaging. It is used for medical purposes (inspection of cancer and blood vessel inner wall), industrial use (inside painting and various non-destructive inspections), and research (living tissues, animals, etc.).
IL (SELFOC® Imaging Lens) is used as the main component of the OCT probe.
Medical and industrial endoscopes
Endoscopes
There are two types of endoscopes: an endoscope (for medical use) that is mainly intended for observing the inside of the human body, and an endoscope (for industrial use) that approaches an internal object through a small gap and observes it.

Each type of endoscope requires an objective lens that captures the object and a relay lens that transmits image information for a certain length.

IL (SELFOC® Imaging Lens) is used as an objective lens for flexible endoscopes and rigid endoscopes, and SRL (SELFOC® Rod Lens) is used as a relay lens for rigid endoscopes.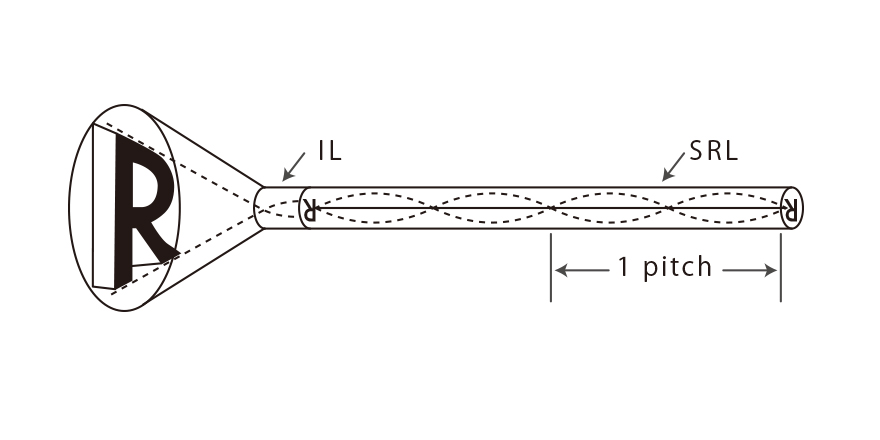 Financial market, others.
Banknote scanner
CIS (Contact Image Sensor) and SLA is widely used for banknote authentication and counting because it enables line scanning with a simple and compact optical system.

Other applications
In addition to printers, copiers, document scanners, AOI (Automated Optical Inspection), and banknote scanners, such applications as handy-size scanners use SLA, driven by the line scanning with its simple and compact optical system.